Vendors!...Tired of hangin' out at the wrong art and craft shows in South Carolina?
Subscribe to Art & Craft Show Yellow Pages ™ in South Carolina, and you'll have the best, most descriptive regional show listing directory in South Carolina.
We currently cover the entire East Coast and surrounding States ( AL, AK, AZ, AR, CA, CO, CT, DC, DE, FL, GA, HI, ID, IL, ID, IA, KS, KY, LA, ME, MD, MA, MI, MN, MI, MO, MT, NE, NV, NH, NJ, NM, NY, NC, ND, OH, OK, OR, PA, RI, SC, SD, TN, TX, UT, VT, VA, WA, WV, WI, WY,).
Event Dates
City
Name of Event
1/09
SUMMERVILLE, SC
Midwinter Arts & Crafts Show 1st
2/01-2/28
HILTON HEAD ISLAND
Gullah Celebration Arts/Crafts 14th
2/06-2/07
FLORENCE, SC
Kids Jamboree 5th
2/12-2/14
CHARLESTON, SC
Southeastern Wildlife Exposition 28th
3/05-3/07
COLUMBIA, SC
Craftsmen's Classic Arts & Crafts Fest 27th
3/13
NORTH MYRTLE BEACH
St. Patrick's Day Festival 22th
3/19-3/20
WOODFORD, SC
Hummingbird Festival
3/26-3/28
SUMMERVILLE, SC
Flowertown Festival
3/26-3/27
HILTON HEAD ISLAND
Hilton Head Quilt Festival
3/26-3/28
CHERAW, SC
Spring Festival 35th
3/26-3/28
ST. STEPHEN, SC
Catfish Festival 18th
4/03-4/04
PENDLETON, SC
Historic Pendleton Spring Jubilee
4/15-4/18
COLUMBIA, SC
Midlands Plant and Flower Festival
4/16-4/18
ST GEORGE, SC
World Grits Festival
4/16-4/18
NORTH AUGUSTA, SC
Artisan's Fair
4/16-4/18
SPARTANBURG, SC
Spartanburg Pow Wow 1st
4/17
MCCORMICK, SC
Spring Bonanza 4th
4/17-4/18
COLUMBIA, SC
Columbia International Festival 15th
4/17
BLACKSBURG, SC
Iron City Festival 5th
4/17-4/18
MYRTLE BEACH, SC
Art in the Park 38th
4/17
PICKENS, SC
Pickens Azalea Festival 26th
4/23-4/25
WALTERBORO, SC
Colleton County Rice Festival 35th
4/24-4/25
HILTON HEAD ISLAND
2010 Art Market
4/24
MANNING, SC
Striped Bass Festival 31st
4/24
FLORENCE, SC
Arts International
4/24-4/25
MYRTLE BEACH, SC
Art in the Park 38th
4/24
MOUNT PLEASANT, SC
Cario Carnivale Craft Fair & BBQ 1st
4/24
CENTRAL, SC
Railroad Festival
4/29-5/01
ABBEVILLE, SC
Abbeville Spring Festival on the Square 28th
4/30-5/01
GREER, SC
Greer Family Fest 26th
4/30-5/02
SPARTANBURG, SC
Spring Fling 31st
4/30-5/02
ORANGEBURG, SC
Festival of Roses
5/01
MCCLELLANVILLE, SC
Lowcountry Shrimp Fest 34th
5/01
MURRELLS INLET, SC
Blessing of the Inlet 14th
5/01
CONWAY, SC
Rivertown Jazz & Arts Festival 24th
5/01-5/02
NORTH CHARLESTON
Arts Festival 28th
5/06-5/08
BATESBURG-LEESVILLE
South Carolina Poultry Festival 22nd
5/07-5/09
GREENVILLE, SC
Artisphere 2010
5/07-5/08
ALLENDALE, SC
Allendale County Cooter Festival 38th
5/08
NORTH MYRTLE BEACH
Mayfest on Main 5th
5/08
JAMESTOWN, SC
Hell Hole Swamp Festival 39th
5/08-5/09
MYRTLE BEACH, SC
Spring Arts & Craft Show 1st
5/13-5/14
CHARLESTON, SC
Charleston Tanger Show 1st
5/15-5/16
LITTLE RIVER, SC
Blue Crab Festival 28th
5/15-5/16
SUMMERVILLE, SC
Sculpture in the South
5/15
SLATER, SC
The Strawberry Festival
5/22-5/23
MOUNT PLEASANT, SC
Intergalactic Bead and Jewelry Show 25th
5/28-5/29
CAMPOBELLO, SC
Plum Hollow Festival 19th
5/28-5/30
SUMTER, SC
Iris Festival 70th
5/28-5/30
CHARLESTON, SC
Piccolo Spoleto Crafts Fair & Show 31st
5/29-5/30
HILTON HEAD, SC
Art Festival 2nd
5/29
GREAT FALLS, SC
Flopeye Fish Festival 27th
6/04-6/06
CHARLESTON, SC
Piccolo Spoleto Crafts Fair & Show 31st
6/05
MT PLEASANT, SC
Sweetgrass Culture Art Festival 5th
6/10-6/12
WHITMIRE, SC
Party in the Pines 23rd
6/11-6/12
GREENVILLE, SC
Home-Based and Small Business Expo 2nd
6/19-6/20
MYRTLE BEACH, SC
Art in the Park 38th
6/19
TRENTON, SC
Ridge Peach Festival 40th
6/19-6/27
HAMPTON, SC
Watermelon Festival 68th
6/19
FORT MILL, SC
Ribbon Fest 1st
6/25-6/27
GREENWOOD, SC
Wknd Festival of Flowers
6/26
GEORGETOWN, SC
Harborwalk Festival 21st
7/02
HARTSVILLE, SC
Hartsville Family Fireworks Festival 4th
7/03
CLEMSON, SC
Clemsonfest 17th
7/04
EASLEY, SC
Easley 4th of July Festival 39th
7/04
GILBERT, SC
Lexington County Peach Festival
7/04
GEORGETOWN, SC
Arts & Crafts Summer Festival
7/08-7/10
GREENWOOD, SC
Festival of Discovery 10th
7/15-7/17
GAFFNEY, SC
S C Peach Festival 34th
7/16-7/17
PAGELAND, SC
Watermelon Festival 59th
7/16-7/25
BEAUFORT, SC
Beaufort Water Festival 55th
7/30-7/31
SUMTER, SC
Fall Home & Leisure Show 35th
8/06-8/08
MYRTLE BEACH, SC
Craftsmen's Classic Arts & Crafts Fesl 28th
8/06-8/07
LITTLE MOUNTAIN, SC
Reunion Festival
8/06-8/08
CHARLESTON, SC
1st Annual Southern Scrapbook Getaway
8/07
LITTLE RIVER, SC
Dog Days Blues & Jazz Festival
8/13-8/14
GREENVILLE, SC
Christian Business Expo 3rd
8/13-8/14
PELION, SC
Arts & Crafts Extravaganza 29th
8/13-8/14
GREENVILLE, SC
Christian Business Expo 4th
8/26-8/29
MYRTLE BEACH, SC
Myrtle Beach Pride 2010 3rd
8/28
WILLIAMSTON, SC
Spring Water Festival 29th
8/28
YORK, SC
Summerfest
9/02-9/12
GREENVILLE, SC
State Fair 47th
9/06
CHAPIN, SC
Labor Day Festival 31st
9/10-9/11
AIKEN, SC
Aiken's Makin' 34th
9/10-9/11
WESTMINSTER, SC
South Carolina Apple Festival
9/10-9/11
GREENVILLE, SC
Indie Craft Parade
9/16-9/19
YEMASSEE, SC
Shrimp Festival 17th
9/17-9/18
LEXINGTON, SC
Oktoberfest
9/17-9/18
HARDEEVILLE, SC
Catfish Festival
9/17-9/19
LAKE CITY, SC
Tobacco Festival
9/17-9/18
SEATTLE, SC
Great Wallingford Wurst Festival
9/17-9/18
MCCORMICK, SC
Gold Rush Day Festival 33rd
9/17-9/18
BISHOPVILLE, SC
Cotton Festival
9/18
AYNOR, SC
Harvest Hoe-Down Festival 31st
9/24-9/25
IRMO, SC
Irmo Okra Strut 37th
9/24-9/26
MURRELLS INLET, SC
Atalaya Arts & Crafts Festival 35th
9/25
NORTH MYRTLE BEACH
Irish Italian International Festival 7th
9/25-9/26
ANDERSON, SC
Rubber Stamp & Paper Arts Festival
9/25
INMAN, SC
Harvest Day Festival 29th
10/01-10/02
LAURENS, SC
Squealin' on the Square 10th
10/01-10/02
MT PLEASANT, SC
Annual Fall Craft Show 27th
10/01-10/03
FLORENCE, SC
Fall Plant & Flower Festival
10/02-10/03
BEAUFORT, SC
Shrimp Festival 15th
10/02
NEWBERRY, SC
Oktoberfest 9th
10/02-10/03
WINNSBORO, SC
Rock Around the Clock Festival 13th
10/08-10/10
WEST COLUMBIA, SC
Fall Plant & Flower Festival
10/09-10/10
MYRTLE BEACH, SC
Art in the Park 38th
10/09-10/10
LITTLE RIVER, SC
Shrimp and Jazz Fest 6th
10/15-10/17
WALHALLA, SC
OKTOBERFEST 32nd
10/16
LORIS, SC
Bog-Off Festival 31st
10/17-10/24
BLUFFTON, SC
Arts & Seafood Festival 6th
10/21-10/30
AIKEN, SC
Western Carolina State Fair
10/22-10/23
GREENVILLE, SC
Holiday Arts & Crafts Show 2nd
10/30
NORTH MYRTLE BEACH
Endless Summer Celebration
10/30
YORK, SC
White Rose Art Festival 1st
11/04-11/07
CHARLESTON, SC
Holiday Craft Show 32nd
11/06-11/07
MYRTLE BEACH, SC
Art in the Park 38th
11/06
TAYLORS, SC
POP Holiday Bazaar 13th
11/06
FLORENCE, SC
Pecan Festival 7th
11/06
DAUFUSKIE ISLAND, SC
Daufuskie 6th Annual Autumn Fest
11/06
SOCIETY HILL, SC
Catfish Festival 24th
11/11-11/14
MYRTLE BEACH, SC
Dickens Christmas Show & Festival 29th
11/12-11/14
COLUMBIA, SC
Craftsmen's Xmas Classic A&C Fest 35th
11/12-11/13
ST HELENA ISLAND, SC
28th Annual Heritage Days Celebration
11/13-11/14
MYRTLE BEACH, SC
Art in the Park 38th
11/13
NINETY SIX, SC
Ebbie McCarthy SS Class Craft Show 3rd
11/19-11/21
N CHARLESTON, SC
Charleston's Holiday Market 12th
11/19-11/21
CHARLESTON, SC
Holiday Market 12th
11/20
BENNETTSVILLE, SC
Jubilee Arts Festival 35th
11/20
EASLEY, SC
Christmas Bazaar 3rd
11/20
FORT MILL, SC
Winter Wonderland Craft Fair 15th
11/20
SUMMERVILLE, SC
Annual Craft Fair & Silent Auction 7th
11/26-11/27
MT PLEASANT, SC
Annual Christmas Craft Show 27th
11/27
SALLEY, SC
Chitlin' Strut 44th
11/27
SUMMERVILLE, SC
Christmas at Tea Farm Cottage
11/27-11/28
MYRTLE BEACH, SC
The Nutcracker Fair 1st
12/02-12/05
ROCK HILL, SC
ChristmasVille 5th
12/02-12/04
GREENVILLE, SC
Holiday Fair 40th
12/03-12/05
CHARLESTON, SC
Christmas Made In The South 18th
12/03-12/05
MYRTLE BEACH, SC
Winter Arts & Craft Show 24th
12/03-12/04
AIKEN, SC
Christmas Craft Show
12/04
LITTLE RIVER , SC
Christmas Market 5th
12/10-12/11
CONWAY, SC
St. Nicholas Winterfest 6th
Nationwide Magazine Coverage
Licensed by Craftmaster News ™
In business for over 30yrs!
We constantly update our South Carolina event database on a daily basis and with verified information only! Not with approximate and incomplete information like others. We do this with pride and respect towards our subscribers... so feel free to give us a Call:

Business Hours:
M-F 10am-5pm PST
Toll Free: (800)871-2341 or Sign up online Today!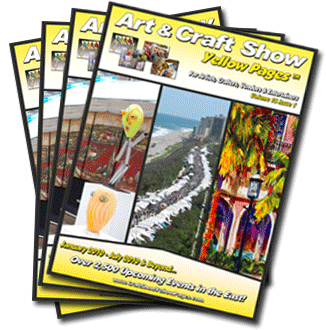 Join NOW! and get instant access to the most complete verified South Carolina event information found anywhere. We give you all details for each art and craft event in South Carolina such as event attendance, promoter contact information, cost of booth, size of booth, what you can sell at each event, we also tell you if its a juried or non juried event, and much more. Also, as an active member you can take advantage of our optional printed updates! Each issue of our art and craft show listing publication lists events up to a year in advance, which is essential in helping you meet application deadlines and book your show dates early. So if you plan on selling at art and craft shows in South Carolina, street fairs and festivals in South Carolina, home and garden shows in South Carolina, trade shows in South Carolina, county and state fairs in South Carolina, music festivals in South Carolina, farmers markets in South Carolina and need a printed update just call us and we will ship you the most current up-to-date South Carolina event listing information for just $15 dollars each.
Request your FREE 7 day online trial Today!
See why we are the best source of verified event listings for vendors in South Carolina.
Complete the short form below and one of our customer service representatives will contact you shortly to provide access and assist you on how to use and find great events to sell your art and crafts, promotional products or service in South Carolina! -Find where the shows are in South Carolina! The easy and efficient way to grow your business!