Vendors!...Tired of hangin' out at the wrong art and craft shows in Iowa?
Subscribe to Art & Craft Show Yellow Pages ™ in Iowa, and you'll have the best, most descriptive regional show listing directory in Iowa.
We currently cover the entire East Coast and surrounding States ( AL, AK, AZ, AR, CA, CO, CT, DC, DE, FL, GA, HI, ID, IL, ID, IA, KS, KY, LA, ME, MD, MA, MI, MN, MI, MO, MT, NE, NV, NH, NJ, NM, NY, NC, ND, OH, OK, OR, PA, RI, SC, SD, TN, TX, UT, VT, VA, WA, WV, WI, WY,).
Event Dates
City
Name of Event
2/06-2/07
WEST DES MOINES, IA
HeArt Fest
2/11-2/14
DES MOINES, IA
Home & Garden Show
3/12-3/14
SIOUX CITY, IA
Craft & Home Business
4/02-4/03
ALTOONA, IA
Art & Craft Show
5/06-5/08
PELLA, IA
Tulip Time Dutch Market 75th
5/15
MARION, IA
Arts Festival
5/15
ORANGE CITY, IA
ArtBurst At The Tulip Festival
5/29-5/30
MCGREGOR, IA
Spring A&C Festival
5/29-5/30
AMANA, IA
Taste Louisiana Cajun & Zydeco Festival 11th
6/12
OSKALOOSA, IA
Art on the Square 42nd
6/25-6/27
DES MOINES, IA
Des Moines Arts Festival
6/26-6/27
WEST DES MOINES, IA
ArtFest Midwest, The Other Art Show
6/26-6/27
DES MOINES, IA
Artfest Midwest "The Other Art Show" 8th
7/04-7/05
MARSHALLTOWN, IA
Craft Show & Business Expo 1st
7/16-7/18
SIOUX CITY, IA
Craft & Home Business
8/01
CRESCO, IA
Cresco Area Fine Arts Show 49th
8/05
OSKALOOSA, IA
Oskaloosa Sweet Corn Serenade
8/06-8/07
GRINNELL, IA
Friday Fest & Rubber Duck Derby
8/07
ARNOLDS PARK, IA
Art in the Park
8/07
WASHINGTON, IA
Celebrate Washington
8/12-8/15
TAMA, IA
Meskwaki Pow Wow
8/13-8/14
MONROE, IA
Old Settlers Festival
8/14
ATLANTIC, IA
Atlanticfest
8/14
ADEL, IA
Sweet Corn Festival
8/14
AMANA, IA
Festival of the Arts
8/27-8/29
AMANA, IA
Woodfest 1st
8/28
GRINNELL, IA
Grinnell Happy Days Festival
9/02-9/06
MOUNT PLEASANT, IA
Old Threshers Reunion
9/03-9/05
SIOUX CITY, IA
ArtSplash 16th
9/04-9/05
CEDAR RAPIDS, IA
New Bohemia Music and Art Festival 2nd
9/06
SHELDON, IA
Sheldon Celebration Days
9/11
OTTUMWA, IA
Crafters Corner 1st
9/11
WASHINGTON, IA
Washington Craft Show 22nd
9/11-9/19
SPENCER, IA
Clay County Fair
9/11
CEDAR FALLS, IA
Artapalooza on Main 5th
9/11-9/12
BOONE, IA
Pufferbilly Days Craft Fair
9/18-9/18
JEFFERSON, IA
Red Barn Home & Craft Show
9/18-9/19
BENTONSPORT, IA
Bentonsport Craft Show/flea Market
9/18-9/19
DAVENPORT, IA
Riverssance Festival of Fine Art 23rd
9/18
FORT MADISON, IA
Fall Fest Flea Market,Crafts & Yard Sale
9/18
VINTON, IA
Boom-Fest part of Boomtown 1st
9/19
WATERLOO, IA
Harvest Fest & Scarecrow Contest
9/23-9/26
MARSHALLTOWN, IA
Oktemberfest
9/24-9/25
GUTTENBERG, IA
Germanfest Craft Fair 20th
9/25-9/26
DYERSVILLE, IA
Festival of the Arts Crafts & Quilts Show
9/26
AMES, IA
The Octagon Art Festival 40TH
10/02-10/03
ALTOONA, IA
Art & Craft Show
10/02-10/03
MCGREGOR, IA
Spring A& C Festival
10/02-10/03
MAIN AMANA, IA
Autumnfest 22nd
10/02
CLINTON, IA
Fabric, Art, and Collectibles Auction
10/09-10/10
MCGREGOR, IA
Leaf Arts & Craft Festival 19th
10/09-10/10
WEST DES MOINES, IA
ArtFest West!
10/09-10/10
WINTERSET, IA
Madison County Covered Bridge Festival
10/09
OTTUMWA, IA
2010 Fall Bazaar
10/15-10/17
SIOUX CITY, IA
Craft & Home Business
10/16
CLARINDA, IA
Chamber Craft Carnival 51ST
10/17
MORAVIA, IA
2nd Annual Arts & Crafts Show
11/06
ANKENY, IA
Santa's North Pole Village Craft Show 29th
11/06
CEDAR RAPIDS, IA
Sensational Creations Craft & Home Bus. Show
11/06
DES MOINES, IA
Craft Saturday
11/13-11/14
WATERLOO, IA
Holiday Arts Festival
11/20
ATKINS, IA
Christmas Bazaar 33rd
11/26-11/28
ALTOONA, IA
Art & Craft Show
11/26-11/27
CEDAR RAPIDS, IA
Christmas at the Downs 21st
11/27-11/28
CEDAR FALLS, IA
Seasonal Shopping Experience 2nd
12/04-12/05
IOWA CITY, IA
Thieves' Art Market
12/18-12/19
ALTOONA, IA
Art & Craft Show
Nationwide Magazine Coverage
Licensed by Craftmaster News ™
In business for over 30yrs!
We constantly update our Iowa event database on a daily basis and with verified information only! Not with approximate and incomplete information like others. We do this with pride and respect towards our subscribers... so feel free to give us a Call:

Business Hours:
M-F 10am-5pm PST
Toll Free: (800)871-2341 or Sign up online Today!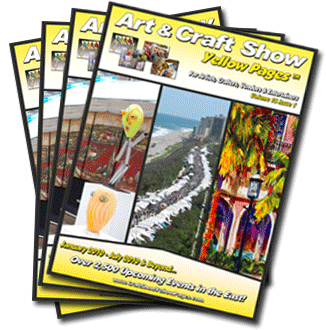 Join NOW! and get instant access to the most complete verified Iowa event information found anywhere. We give you all details for each art and craft event in Iowa such as event attendance, promoter contact information, cost of booth, size of booth, what you can sell at each event, we also tell you if its a juried or non juried event, and much more. Also, as an active member you can take advantage of our optional printed updates! Each issue of our art and craft show listing publication lists events up to a year in advance, which is essential in helping you meet application deadlines and book your show dates early. So if you plan on selling at art and craft shows in Iowa, street fairs and festivals in Iowa, home and garden shows in Iowa, trade shows in Iowa, county and state fairs in Iowa, music festivals in Iowa, farmers markets in Iowa and need a printed update just call us and we will ship you the most current up-to-date Iowa event listing information for just $15 dollars each.
Request your FREE 7 day online trial Today!
See why we are the best source of verified event listings for vendors in Iowa.
Complete the short form below and one of our customer service representatives will contact you shortly to provide access and assist you on how to use and find great events to sell your art and crafts, promotional products or service in Iowa! -Find where the shows are in Iowa! The easy and efficient way to grow your business!