Vendors!...Tired of hangin' out at the wrong art and craft shows in Kentucky?
Subscribe to Art & Craft Show Yellow Pages ™ in Kentucky, and you'll have the best, most descriptive regional show listing directory in Kentucky.
We currently cover the entire East Coast and surrounding States ( AL, AK, AZ, AR, CA, CO, CT, DC, DE, FL, GA, HI, ID, IL, ID, IA, KS, KY, LA, ME, MD, MA, MI, MN, MI, MO, MT, NE, NV, NH, NJ, NM, NY, NC, ND, OH, OK, OR, PA, RI, SC, SD, TN, TX, UT, VT, VA, WA, WV, WI, WY,).
Event Dates
City
Name of Event
3/04-3/06
ELIZABETHTOWN, KY
Kentucky Kids Consignment Sales Spring
3/06-3/07
LOUISVILLE, KY
Kentucky Crafted: The Market
3/06-3/07
LEBANON, KY
Heart of Kentucky Antique & Craft Fair 5th
3/06-3/07
LOUISVILLE, KY
Bead & Jewelry & Fashion Access. Show
4/21-4/24
PADUCAH, KY
Quilt Show & Contest 26th
4/24
SCOTTSVILLE, KY
Jacksonian Days 29th
5/07-5/08
OWENSBORO, KY
International Bar-B-Q Festival
5/08-5/09
LOUISVILLE, KY
Art in the Arbor Festival 42nd
5/08-5/09
LEXINGTON, KY
Mayfest Arts Fair
5/14-5/16
COVINGTON, KY
Maifest 31st
5/14-5/15
ELKHORN, KY
Apple Blossom Festival
5/15-5/16
LOUISVILLE, KY
Arts at the Summit 3rd
5/23-5/24
LEXINGTON, KY
Bead & Jewelry & Fashion Access. Show
5/27-5/30
PINEVILLE, KY
Kentucky Mountain Laurel Festival 80th
6/04-6/05
HARRODSBURG, KY
Fort Harrod Beef Festival 5th
6/05-6/06
LAGRANGE, KY
Arts on the Green 11th
6/12-6/13
LOUISVILLE, KY
4th St Live! Art Festival
6/18-6/20
COVINGTON, KY
10th Annual Goettafest
7/09-7/11
BEREA, KY
Berea Craft Festival 29th
7/22-7/24
PADUCAH, KY
Paducah Summer Festival
8/05-8/08
LOUISVILLE, KY
National Streetrod Show 41st
8/07-8/08
HARRODSBURG, KY
Shaker Village of Pleasant Hill Craft Fair 15th
8/07-8/08
STANTON, KY
Stanton Corn Festival
8/12-8/14
CORBIN, KY
Nibroc Festival 58th
8/13-8/14
BOWLING GREEN, KY
Duncan Hines Festival 14th
8/19-8/29
LOUISVILLE, KY
Kentucky State Fair
8/21-8/22
LEXINGTON, KY
AFB Art Fair 35th
8/27-8/29
ELIZABETHTOWN, KY
Kentucky Heartland Festival
9/10-9/12
COVINGTON, KY
Oktoberfest 32nd
9/11-9/12
SOMERSET, KY
The Peddlers Market 1st
9/11
CROFTON, KY
September Fest
9/16-9/18
ELIZABETHTOWN, KY
Kentucky Kids Consignment Sales Spring 6th
9/18-9/19
MAYSVILLE, KY
Simon Kenton Festival 34th
10/01-10/03
LOUISVILLE, KY
St James Court Art Show 54th
10/09-10/10
BEREA, KY
Fall Fair 49th
11/12-11/14
SOMERSET, KY
Sheltowee Art Fair 16th
11/19-11/20
UNION, KY
Holiday Arts and Crafts Show
11/26-11/28
COVINGTON, KY
Greater Cincinnati Winterfair 32nd
12/03-12/04
LOUISVILLE, KY
Winterfair! 20th
12/03-12/05
LOUISVILLE, KY
Hollydays
Nationwide Magazine Coverage
Licensed by Craftmaster News ™
In business for over 30yrs!
We constantly update our Kentucky event database on a daily basis and with verified information only! Not with approximate and incomplete information like others. We do this with pride and respect towards our subscribers... so feel free to give us a Call:

Business Hours:
M-F 10am-5pm PST
Toll Free: (800)871-2341 or Sign up online Today!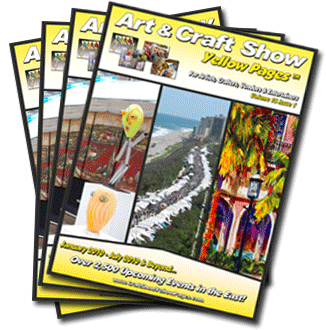 Join NOW! and get instant access to the most complete verified Kentucky event information found anywhere. We give you all details for each art and craft event in Kentucky such as event attendance, promoter contact information, cost of booth, size of booth, what you can sell at each event, we also tell you if its a juried or non juried event, and much more. Also, as an active member you can take advantage of our optional printed updates! Each issue of our art and craft show listing publication lists events up to a year in advance, which is essential in helping you meet application deadlines and book your show dates early. So if you plan on selling at art and craft shows in Kentucky, street fairs and festivals in Kentucky, home and garden shows in Kentucky, trade shows in Kentucky, county and state fairs in Kentucky, music festivals in Kentucky, farmers markets in Kentucky and need a printed update just call us and we will ship you the most current up-to-date Kentucky event listing information for just $15 dollars each.
Request your FREE 7 day online trial Today!
See why we are the best source of verified event listings for vendors in Kentucky.
Complete the short form below and one of our customer service representatives will contact you shortly to provide access and assist you on how to use and find great events to sell your art and crafts, promotional products or service in Kentucky! -Find where the shows are in Kentucky! The easy and efficient way to grow your business!