Vendors!...Tired of hangin' out at the wrong art and craft shows in Mississippi?
Subscribe to Art & Craft Show Yellow Pages ™ in Mississippi, and you'll have the best, most descriptive regional show listing directory in Mississippi.
We currently cover the entire East Coast and surrounding States ( AL, AK, AZ, AR, CA, CO, CT, DC, DE, FL, GA, HI, ID, IL, ID, IA, KS, KY, LA, ME, MD, MA, MI, MN, MI, MO, MT, NE, NV, NH, NJ, NM, NY, NC, ND, OH, OK, OR, PA, RI, SC, SD, TN, TX, UT, VT, VA, WA, WV, WI, WY,).
Event Dates
City
Name of Event
2/13-2/14
MAGNOLIA, MS
Magnolia Mardi Gras
3/05-3/06
NEWTON, MS
Loose Caboose Festival 6th
3/12-3/14
BILOXI, MS
BILOXI BOAT AND RV SHOW
3/27
HATTIESBURG, MS
Hubfest 2010
3/27
OCEAN SPRINGS, MS
Herb & Garden Festival 17th
4/02-4/11
HATTIESBURG, MS
Arts and Craft Show
4/03
MERIDIAN, MS
Threefoot Arts Festival
4/10
BELZONI, MS
World Catfish Festival 35th
4/10-4/11
PASS CHRISTIAN, MS
2010 Art in the Pass
4/10-4/11
PICAYUNE, MS
Street Fair 30th
4/10
WAYNESBORO, MS
Whistle Stop Festival
4/15-4/18
BILOXI, MS
Crawfish Festival
4/16-4/17
VICKSBURG, MS
Riverfest Arts & Crafts Show 42nd
4/16-4/17
SOUTHAVEN, MS
Creole Crawfish Festival 5th
4/16-4/25
MERIDIAN, MS
Arts and Craft Show
4/17
CLEVELAND, MS
Arts & Jazz Festival 41st
4/22-4/25
BILOXI, MS
Crawfish Festival
4/24
OXFORD, MS
Double Decker Arts Festival 15th
4/24
KOSCIUSKO, MS
Natchez Trace Festival 41st
4/30-5/02
GULFPORT, MS
International Festival 4th
5/01
COLLINS, MS
Oktoma Festival
5/01-5/02
OCEAN SPRINGS, MS
Renaissance Festival
5/08-5/09
TUPELO, MS
GumTree Festival 39th
5/08
SENATOBIA, MS
17th Annual Mayfair
5/13
CANTON, MS
Flea Market Arts & Crafts Show
5/13
CANTON, MS
Arts & Crafts Show 46th
5/15
CARTHAGE, MS
The Square Affair
5/22-5/23
RIDGELAND, MS
Renaissance Fine Arts Festival
6/05
TYLERTOWN, MS
Dairy Festival 33rd
6/12
POPLARVILLE, MS
Blueberry Jubilee 26th
6/18-6/19
MCCOMB, MS
Juneteenth Festival 6th
7/01-7/04
BILOXI, MS
Deep Sea Fishing Rodeo 62nd
7/23-7/30
PHILADELPHIA, MS
Neshoba County Fair
9/04
WALNUT GROVE, MS
Walnut Grove Day 33rd
9/04-9/05
IUKA, MS
Iuka Heritage Festival
9/04
WEST POINT, MS
Prairie Arts Festival 32nd
9/11
NATCHEZ, MS
Copper Magnolia Festival & Market 29th
9/11-9/12
BILOXI, MS
Seafood Festival 29th
9/11
PELAHATCHIE, MS
Muscadine Jubilee 30th
9/11
WEST, MS
Big Black River Festival 31st
9/18
MARTIN, MS
Mississippi Gourd Festival 5th
9/18
COLLINSVILLE, MS
Gourd Gracious Festival
9/24-9/26
RICHTON, MS
Mississippi Pecan Festival 23rd
9/24-10/03
SOUTHAVEN, MS
Mid-South Fair
9/24-9/25
NEW ALBANY, MS
Tallahatchie Riverfest 17th
9/25
QUITMAN, MS
Forestry & Wildlife Festival 20th
9/25
MARKS, MS
September's Song Festival 11th
10/02
LAUREL, MS
Loblolly Festival 2nd
10/02
CARTHAGE, MS
Octoberfest 2010 38th
10/02
MADISON, MS
A Day in the Country 31st
10/06-10/17
JACKSON, MS
MS State Fair
10/08-10/09
CLEVELAND, MS
Octoberfest 27th
10/15-10/17
NATCHEZ, MS
Gem,Jewelry & Bead Show
10/15-10/16
ABERDEEN, MS
Blue Bluff Festival 2010
10/16-10/17
GAUTIER, MS
Mullet & Music Fest 20th
10/16
TUNICA, MS
Romp on the River 2010 1st
10/16
TUNICA RESORTS, MS
Romp on the River 2010 1st
10/17-10/24
PACAGOULA, MS
Jackson County Fair
10/23
MACON, MS
Dancing Rabbit Festival 24th
10/29-11/07
HATTIESBURG, MS
Arts and Craft Show
11/03-11/06
JACKSON, MS
Mistletoe Marketplace 2010
11/06-11/07
PICAYUNE, MS
Picayune Street Fair
11/06-11/07
OCEAN SPRINGS, MS
Arts, Crafts & Food Festival 32nd
11/06-11/07
MERIDIAN, MS
Homemakers Arts & Crafts Show 26th
11/06
ELLISVILLE, MS
RotaryFest
11/13-11/14
BILOXI, MS
Christmas City USA
11/13
LUCEDALE, MS
Gingham Tree Arts & Crafts Festival 36th
11/19-11/20
JACKSON, MS
Handworks Holiday Show
12/03-12/04
JACKSON, MS
The Gingerbread House
12/04
COLUMBIA, MS
Winterfest 11th
12/04-12/05
JACKSON, MS
Chimneyville Crafts Festival 33rd
12/04
BILOXI, MS
Christmas in the City 6th
12/04
OLIVE BRANCH, MS
Holiday Crafts Festival 1st
12/04
MENDENHALL, MS
Christmas At Pine Top Ranch
12/11
MCCOMB, MS
Artisans Christmas Village
Nationwide Magazine Coverage
Licensed by Craftmaster News ™
In business for over 30yrs!
We constantly update our Mississippi event database on a daily basis and with verified information only! Not with approximate and incomplete information like others. We do this with pride and respect towards our subscribers... so feel free to give us a Call:

Business Hours:
M-F 10am-5pm PST
Toll Free: (800)871-2341 or Sign up online Today!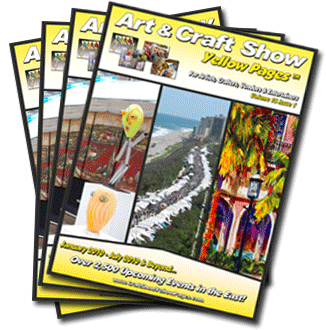 Join NOW! and get instant access to the most complete verified Mississippi event information found anywhere. We give you all details for each art and craft event in Mississippi such as event attendance, promoter contact information, cost of booth, size of booth, what you can sell at each event, we also tell you if its a juried or non juried event, and much more. Also, as an active member you can take advantage of our optional printed updates! Each issue of our art and craft show listing publication lists events up to a year in advance, which is essential in helping you meet application deadlines and book your show dates early. So if you plan on selling at art and craft shows in Mississippi, street fairs and festivals in Mississippi, home and garden shows in Mississippi, trade shows in Mississippi, county and state fairs in Mississippi, music festivals in Mississippi, farmers markets in Mississippi and need a printed update just call us and we will ship you the most current up-to-date Mississippi event listing information for just $15 dollars each.
Request your FREE 7 day online trial Today!
See why we are the best source of verified event listings for vendors in Mississippi.
Complete the short form below and one of our customer service representatives will contact you shortly to provide access and assist you on how to use and find great events to sell your art and crafts, promotional products or service in Mississippi! -Find where the shows are in Mississippi! The easy and efficient way to grow your business!